Paddle, become a member, buy tickets to events, donate to the general fund or a program or event, or apply to join a committee or the board! Or you can buy notecards, hats, or stickers in the WWALS Online Store.
Plus students can apply to be interns.
WWALS Watershed Coalition, Inc. (WWALS) is the WATERKEEPER® Alliance Member with the name Suwannee RIVERKEEPER®. When you become a member, you get a bumper sticker that looks exactly like the Suwannee Riverkeeper logo: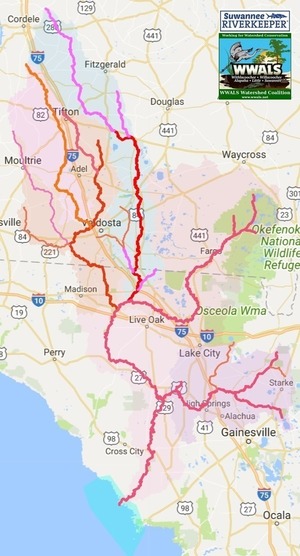 You can help WWALS advocate for conservation and stewardship of the entire watersheds of the Withlacoochee, Alapaha, Santa Fe, and Suwannee Rivers and all their tributaries in more than thirty counties in south Georgia and north Florida.
WWALS holds numerous paddle outings and cleanups, and several big events, including two paddle races and a songwriting contest. See Sponsor Events.
WWALS programs and projects include water quality testing, water trails, a Troupville River Camp, and legal action. See Sponsor Programs.
See Issues for our advocacy against the Sabal Trail pipeline, fracking, Liquid Natural Gas (LNG) export, phosphate mining, and titanium mining next to the Okefenokee Swamp.
Your membership will help WWALS and help us all with boatable, fishable, swimmable rivers and clean drinking water.
The WWALS board is pursuing these goals:
Education of general public about conservation and stewardship of WWALS watershed.
Act as a knowledge resource about physical, biological and natural resources to, and about, our community.
Engage with local agencies on routine water quality testing.
Develop and maintain documentation relevant to our watershed.
Identify and address threats to the WWALS Watershed.
Engage our community in outdoor activities.
Raise money to fund organization on an ongoing basis.
As a WWALS member, you can join one of our Committees to help accomplish these goals.
Membership Levels
Student*
$15
Individual
$25
Family
$40
Supporting
$100
Sustaining
$250
Tributary
$500
River
$1000
Watershed
$2500
Aquifer
$5000
In order to reach these goals your generous contribution will be used for the purchase of equipment, volunteer supplies, and legal fees, as well as assisting in presentations, reports and conferences to the community and training workshops for volunteers.
We are raising funds for our programs, to hire an executive director, and we have legal fees right now related to some of these goals.
WWALS offers a variety of levels suitable for all potential members.
*Student scholarships and other memberships may be provided at the discretion of the WWALS Watershed Coalition Board.
Or print, fill out, and mail our Membership Application.
For printing many copies for meetings, there is also a two-per-page PDF for double-sided printing.
---
Emotion Stealth 11 with Carlisle Paddle

Notecards, hats, stickers, and more!


Or buy tickets to them.

---

And projects.

---

Make a one time or recurring donation
Help fund the activities and advocacy you just read about!

---
Your support of WWALS and its projects, events, and advocacy is greatly appreciated!
WWALS Watershed Coalition is a Georgia nonprofit corporation (control #12048304) and an IRS 501(c)(3) public charity (PDF, image), so contributions are tax-deductible. Our Tax ID Number is 46-2656118.

WWALS Florida Articles of Incorporation.

Check-A-Charity, Florida Department of Agriculture and Consumer Services:
Wwals Watershed Coalition Florida Inc., Tallahassee, FL
Also Soliciting as: Suwannee Riverkeeper
Registration Number: CH60332

To support a paid executive director and to fully fund the Suwannee Riverkeeper®, we need to raise about $100,000 a year, about a third each from memberships, sponsors, and grants. You can become a member, or you or your organization can donate any dollar amount.
Thanks in advance!
For more information
See the WWALS blog, facebook page, Instagram, twitter, meetup, YouTube channel, press releases, and news media coverage. Members get the WWALS monthly newsletter, Tannin Times. Here's a video about the Alapaha River Water Trail.